News
COVID-19
posted May 23, 2020, 5:06 PM
Dear Skating Families,

As you know, in an effort to help flatten the curve and prevent the spread of COVID-19 the City of Ottawa made the decision to close all municipally operated arenas until June 30, 2020 inclusively. Skate Canada also suspended all Skate Canada activities until further notice.

Effective May 11, 2020, Skate Canada lifted their suspension of Skate Canada activities, with limitations. (please see Skate Canada response below)


On May 14, 2020, Skate Ontario posted the following statement to their website:

Dear Skate Ontario Skating Family,

Today the Ontario government released their guidelines for Stage 1 of the Framework for Reopening our Province. In the guidelines, they have indicated that figure skating is one of the sports that is permitted to resume activity.

The following are the parameters for figure skating as defined by the government:
Must be conducted by a recognized Provincial Sport Organization, National Sport Organization or recognized national provincial training centre with return to play protocols in place
Must be executed using physical distancing measures and without spectators

While this is a huge step forward for our sport, it obviously raises many questions.

Please understand, the announcement today is NOT approval for Skate Ontario clubs and skating schools to begin operation at this time. This is not a green light for skating to resume on May 19th.

We know everyone is anxious to resume skating. We are pleased by today's announcement and ask for your patience as we move forward. Skate Ontario is awaiting further information from the government and public health on specific recommendations and details related to today's announcement.

We'd like to remind you that the choices all of us make in the coming days will determine our ability to move towards having all skaters back on the ice in Ontario in the near future. We will communicate and publish guidelines and additional information as they are available.


On May 22, 2020, Skate Ontario added the following information to their website:

We are now able to confirm the level of skater who may return to the ice during the province's current Stage 1 reopening phase. At this time, skating will be restricted to skaters at the Novice, Junior and Senior levels for Singles, Pairs and Dance and the Junior and Senior level for SYS skaters.

We appreciate that many other skaters and coaches at all levels are also eager to get back on the ice as soon as possible. Skate Ontario is committed to ensuring the return to skating is taking place in a safe and measured manner. During Stage 1, public health standards in Ontario restrict children from going to school as well as seeing their friends and family outside their immediate households. We plan to use the time during Stage 1 to monitor and adjust our Return to Skating protocols as needed, so that we are prepared when the government announces changes to parameters for gatherings and amateur sport training at Stage 2 and beyond.

As discussed during last night's townhall, we will also be distributing our Return to Play protocols shortly so that our stakeholders can use these in their preparations for returning to the ice. We anticipate this document will be distributed next week. Please continue to check the Skate Ontario website and the Skate Ontario COVID-19 Info Centre for announcements.

Skate Ontario looks forward to continuing our safe and measured approach to the return of play in our province. We will continue to proceed in accordance with provincial guidelines to ensure that our skating community is prepared when the guidelines for future Stages are released.

Karina Korchinski
President, Glen Cairn Skating Club
--------------------------------------
Dear Members and Registrants,
In these uncertain times for our organization, our communities and our world, we want to assure our Skate Canada family that we are all in this together.

This is an unprecedented time for all of us and there is no playbook to refer to. We need to follow the lead of our government officials and health care authorities and do our part to overcome this pandemic together.
We know our community is eager to get back on the ice and resume skating activities. Several provincial governments have released frameworks for reopening services and lifting restrictions on physical/social distancing. As a result, effective immediately, we have lifted the suspension of Skate Canada activities, with limitations.
For skating to resume the below restriction must be adhered to:
Skate Canada sections, clubs and skating schools can resume only if permitted by the jurisdiction they are located in. This means that all members and registrants must follow the precautions outlined by their provincial and municipal governments and their local venue operators.
As the COVID-19 response varies from location to location, there is no standard approach that applies to all clubs and schools. However, Skate Canada has developed Return to Skating Guidelines. The guidelines follow recommendations from the Public Health Agency of Canada to help limit the spread of COVID-19 and ensure all participants feel safe while participating in skating activities.
Since each province's reopening plan differs, it is the responsibility of the section, club, skating school and coach to abide by the various requirements outlined by their governments. The timeline for reopening will vary depending on your jurisdiction, so not all clubs and skating schools will be able to resume collectively.
It is imperative that all clubs, skating schools and coaches reach out to their Section to inquire about provincial regulations and how skating is affected in your area. Skate Canada and all Sections are working together to find the way forward and will regroup regularly to ensure inquiries are addressed.
As information is released and further best practices for facilitating skating are developed, we will continue to update the community. As a reminder, due to the fluidity of COVID-19, Skate Canada has created a dedicated webpage as a primary resource for our members and registrants.
Thank you for taking the necessary precautions and doing what you can to limit the spread of COVID-19. By working together and going the extra mile, as an organization and as neighbours, we can make a difference.
If you have questions, please do not hesitate to reach out to us at info@skatecanada.ca or 1-888-747-2372.
SPRING SKATER DEVELOPMENT SEMINAR
posted Mar 24, 2020, 5:32 PM
UPDATE
Glen Cairn Skating Club regrets to announce that our planned Spring Skater Development Seminar featuring three high level coaches has been cancelled due to the ongoing COVID-19 situation. Registrants can expect to see a complete refund on their credit card. If you have any questions, please contact the club president, Karina Korchinski, at: president.glencairnsc@gmail.com.
----------------------------------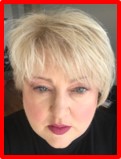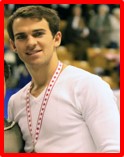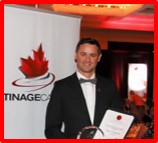 On Ice Monday May 4th
JEN JACKSON & BRYCE DAVISON,
Hamilton Skating Club, Toronto
Jen Jackson: Skating Coach & Tech Specialist with over 30 years of coaching expertise, has had many skaters to medal & win Sectionals, Challenge and National Championships. Jen takes great pride in developing skaters from CanSkate to the National level.
Bryce Davison: Director of Skater Development at Hamilton SC, with 10 years of coaching expertise. Former World Bronze Medalist & three-time National Pair Champion (Jessica Dubé), Bryce represented Canada in 2006 & 2010 at the Olympics, and was also a multi-national Champion in Singles.
On Ice Tuesday May 5th
YVAN DESJARDINS, CPA Rosemère, Quebec
Yvan Desjardins: Level 5 Skating Coach with over 20 years of coaching expertise, Skate Canada Competitive Coach award of Excellence 2016. Yvan has coached Nicolas Nadeau, Jessica Dubé, Shawn Sayer, Joseph Phan and many more.

SKATE ONTARIO 2020 PROVINCIAL CHAMPIONSHIPS
posted Mar 10, 2020, 10:28 AM
The final results for the Super Series are in. This series is for athletes competing in STAR 5, STAR 6, STAR 7, STAR 8, STAR 9, STAR 10, Gold, Pre-Juvenile, Juvenile, Pre-Novice, Novice, Junior and Senior in the men, women, pair, and ice dance categories. Glen Cairn Skating Club is proud to announce that nine of our skaters have qualified to the Skate Ontario Provincial Championships this year, to take place in Belleville at the Quinte Sport & Wellness Centre from March 26 - 29, 2020.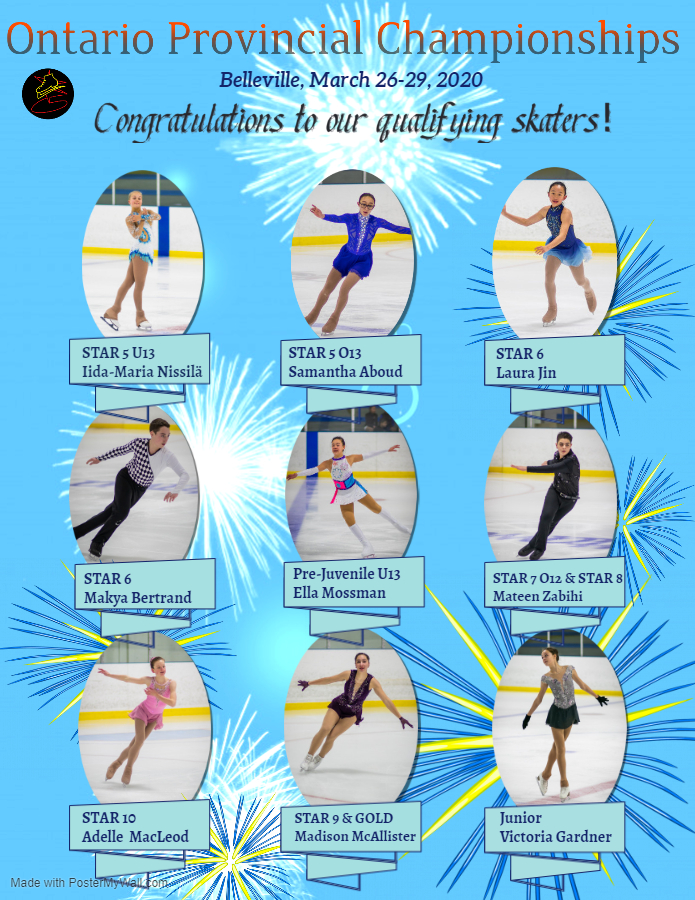 ELIZABETH MANLEY WINTER CLASSIC
posted Feb 23, 2020, 4:03 PM
Congratulations to all our skaters who participated at the Elizabeth Manley Winter Classic, held at the Bob MacQuarrie Recreation Complex from February 21-23, 2020.

We are especially proud of our podium placers:

STAR 4
Evan Merchant - 1st place (U13)
Adia Smith - 2nd place (U13)

STAR 5
Samantha Aboud - 2nd place (O13)
Iida-Maria Nissilä - 2nd place (Artistic)

STAR 10
Adelle MacLeod - 2nd place

Pre-Juvenile
Ella Mossman - 3rd place (U13)

Junior Women
Victoria Gardner - 1st place

Congratulations also go to our STAR 1, 2 & 3 skaters who earned the following ribbons:

STAR 1
Kyleigh Smith - bronze

STAR 2
Alysa Kozine - bronze
Ethan Stone - bronze
Isabella Peng - silver
Autumn Sakiyama - silver
Jack McHugh - silver
Ali Beresnikow - gold

STAR 3
Stephanie Uzea - silver
Amelia Rowe - silver
Emma Stone - gold
Ruby Finan - gold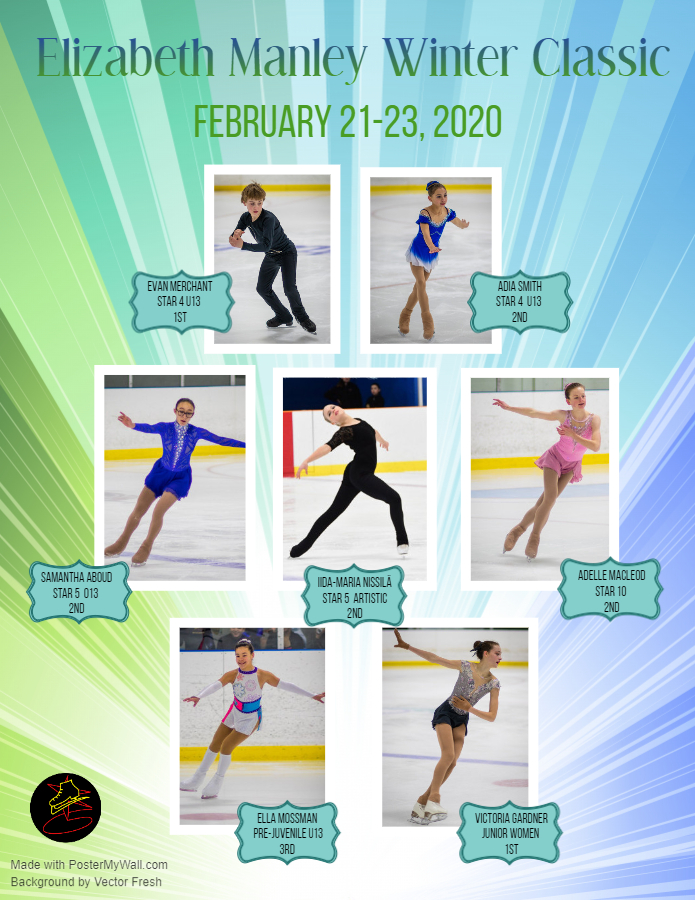 GLEN CAIRN SKATERS FEATURED IN COMMUNITY VOICE
posted Feb 20, 2020, 2:31 PM
Check out this feature in today's edition of our local newspaper, Community Voice. Thank you to reporter Anil Jhalli for spreading the word about our Love to Skate competition!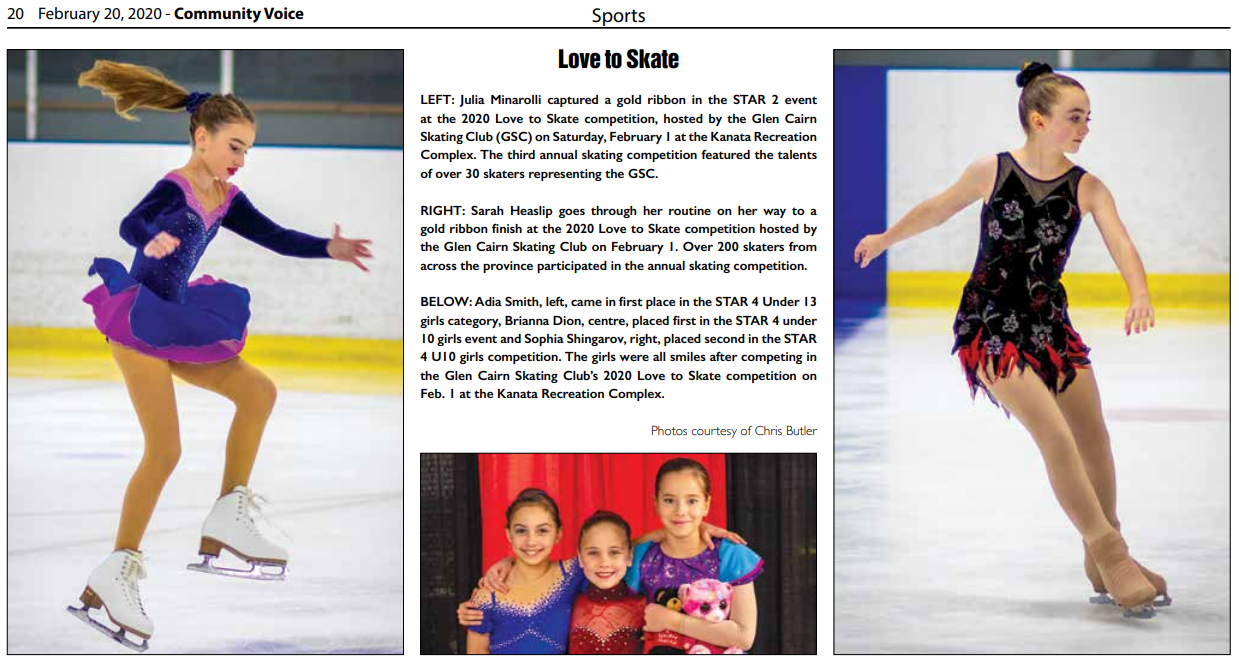 BRAMPTON FLOWER CITY INVITATIONAL
posted Feb 9, 2020, 2:35 PM
Glen Cairn Skating Club congratulates everyone who participated in the Brampton Flower City Invitational, part of the Super Series, held February 7 - 9, 2020, with a special mention to our podium placers!
Results:

STAR 5 Women (U13): Iida-Maria Nissilä - 1st place
STAR 5 Women (O13): Grace Smith - 15th place
STAR 6 Women: Laura Jin - 12th place
STAR 7 Women (O12): Laura Jin - 11th place
STAR 7 Men (O12): Mateen Zabihi - 3rd place
STAR 8 Men: Mateen Zabihi - 4th place
GOLD Women: Madison McAllister - 6th place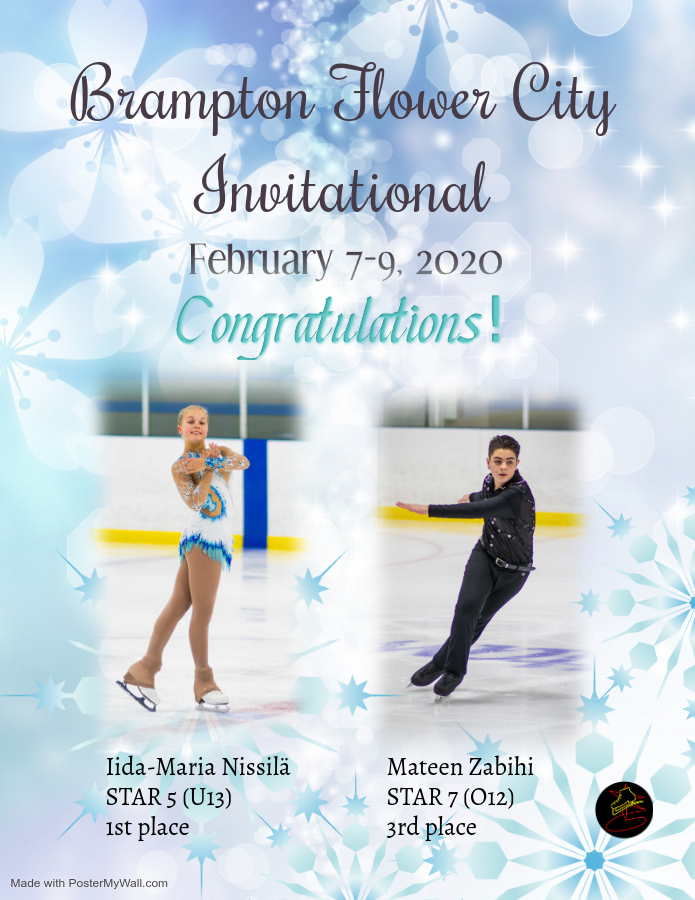 LOVE TO SKATE 2020
posted Feb 2, 2020, 12:01 PM
On Saturday, February 1, 2020 Glen Cairn Skating Club hosted the Love to Skate competition at Kanata Recreation Complex.
We would like to thank everyone who volunteered to make this event a huge success! From the ticket table to the podium, from registration to music, and from carpentry to food preparation, dozens of our club members stepped up to assist in making this event the most smoothly-run hosted event we have had to-date.

We have a lot to be proud of: not only did we have helpers young and old in yellow volunteer ribbons cheerfully assisting guests, competitors and officials from dawn to dusk; we also made an excellent showing on the podium with 34 of our own skaters competing in this event.
Bravo to everyone on a job very well done!

Congratulations to everyone who skated at this event, with a special mention to our top finishers:


STAR 1
Alena Zeng - BRONZE
Leila Chahabi - SILVER
Emma Batten - SILVER
Jade Smith - SILVER
STAR 2
Ethan Stone - BRONZE
Brooke Penney - BRONZE
Shankari Ramashan - BRONZE
Isabella Peng - BRONZE
Alysa Kozine - BRONZE
Megan Butler - SILVER
Vera Klimenko - SILVER
Amelia Rowe - SILVER
Autumn Sakiyama - SILVER
Hannah Kuriakose - SILVER
Jack McHugh - SILVER
Yara Zayed - SILVER
Ali Beresnikow - SILVER
Julia Minarolli - GOLD
STAR 3
Alexavier Kirby - SILVER
Stephanie Uzea - SILVER
Ruby Finan - SILVER
Alina Wen - SILVER
Richard Zhao - GOLD
Emma Stone - GOLD
Sarah Heaslip - GOLD
STAR 4 (Under 10 category)
Brianna Dion - 1st place
Sophia Shingarov - 2nd place
STAR 4 (Under 13 Girls category)
Adia Smith - 1st place
STAR 4 (Under 13 Boys category)
Evan Merchant - 1st place
STAR 4 (Over 13 category)
Naomi Faria - 3rd place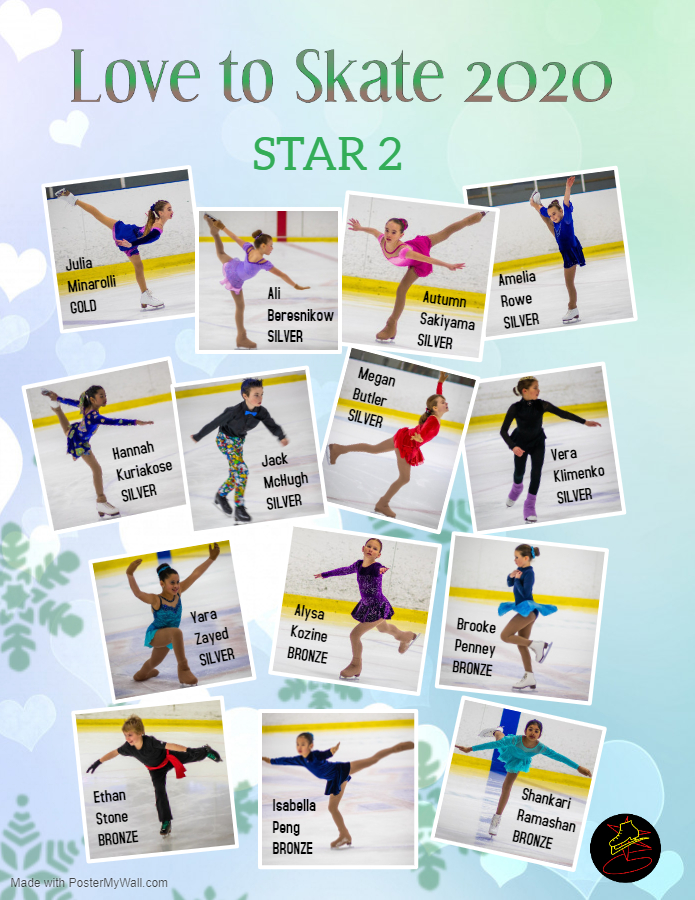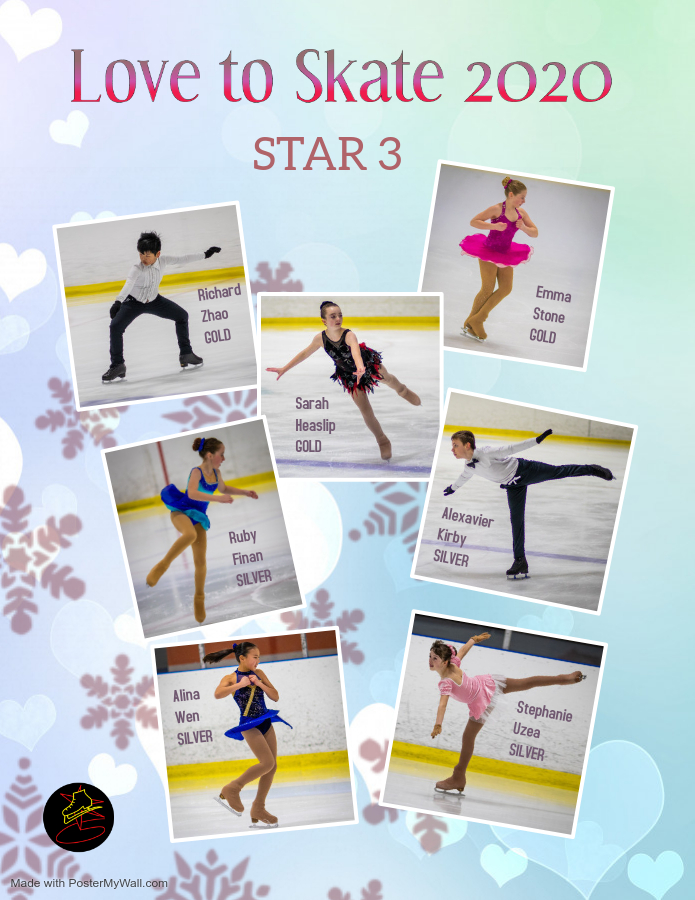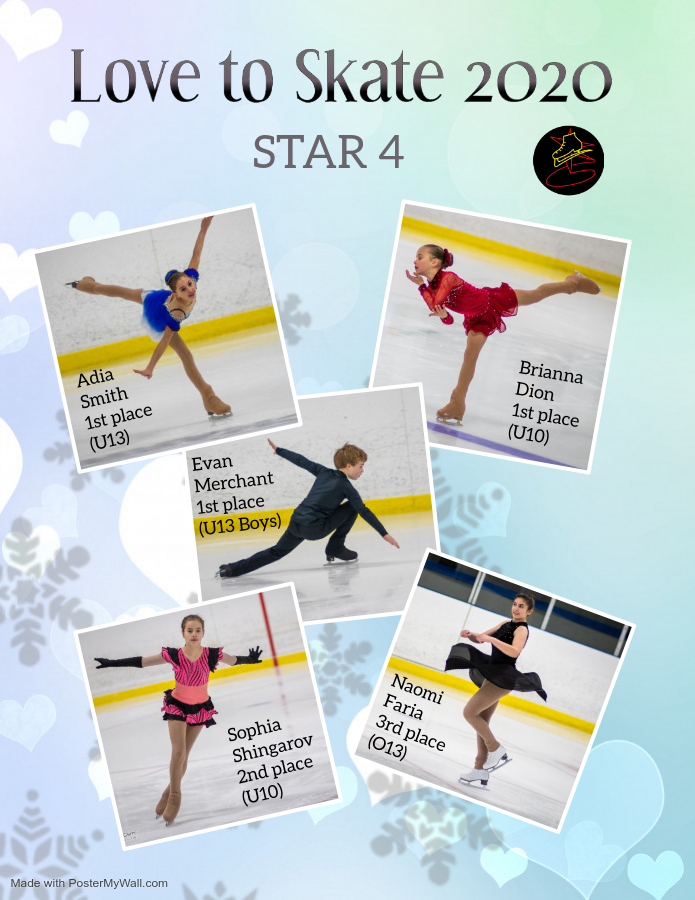 1000 ISLANDS SUPER SERIES COMPETITION
posted Jan 22, 2020, 5:53 PM
Glen Cairn Skating Club had another good showing at the 1000 Islands Super Series competition held in Brockville from January 17 through 19, 2020. The club extends congratulations to everyone who competed, with a special mention to our podium placers:

STAR 4 (U13): Evan Merchant - 2nd place

STAR 5 (O13): Grace Smith - 1st place

STAR 5 (O13): Samantha Aboud - 2nd place

STAR 6: Laura Jin - 1st place

STAR 8: Rafie Salim - 2nd place

STAR 9: Madison McAllister - 3rd place

STAR 10: Adelle MacLeod - 1st place

Pre-Juvenile (U13): Anna Korchinski - 3rd place
ARNPRIOR WINTERFEST STAR 1-4 COMPETITION
posted Jan 20, 2020, 11:39 AM
Glen Cairn Skating Club would like to congratulate our STAR 1-4 skaters who participated at the Arnprior Winterfest STAR 1-4 Competition on January 11 & 12, 2020.

We are proud to share the names of our skaters who earned BRONZE, SILVER, and GOLD ribbons (STAR 1, 2 & 3) or placed in the top three (STAR 4) at this event:

STAR 1
Alena Zeng: BRONZE
Emma Batten: SILVER
Jade Smith: BRONZE

STAR 2
Ali Beresnikow: SILVER
Alysa Kozine: BRONZE
Amelia Rowe: SILVER
Hannah Kuriakose: SILVER
Isabella Peng: BRONZE
Jack McHugh: BRONZE
Julia Minarolli: SILVER
Megan Butler: BRONZE
Vera Klimenko: SILVER
Yara Zayed: SILVER

STAR 3
Adia Smith: GOLD
Brianna Dion: GOLD
Emma Stone: GOLD
Richard Zhao: SILVER
Ruby Finan: GOLD
Sarah Heaslip: SILVER
Stephanie Uzea: GOLD

STAR 4
Evan Merchant: 1st (U13)
Erin Jones: 3rd (O13)
Naomi Faria: 2nd (O13)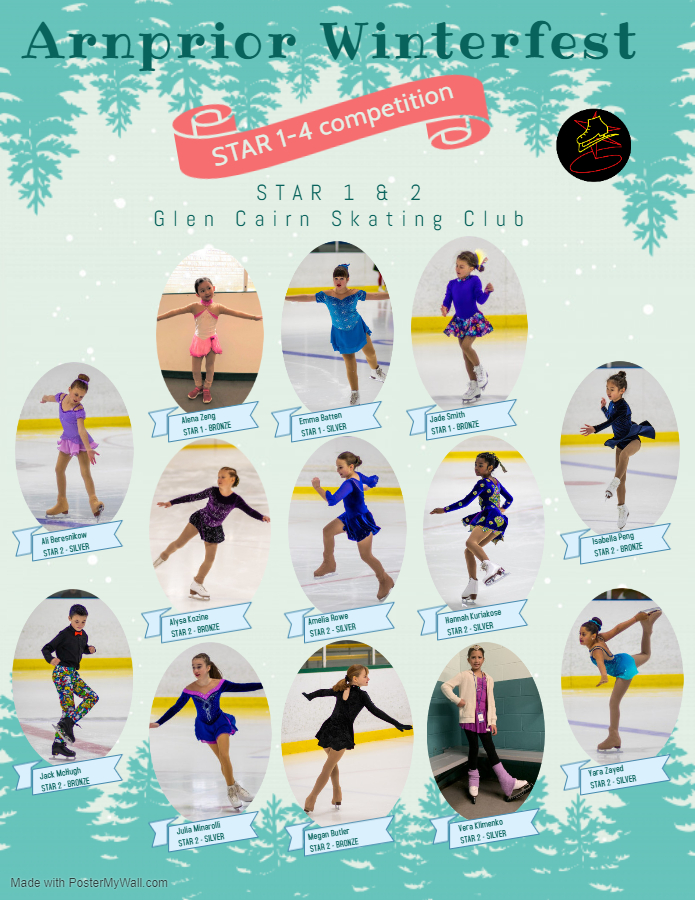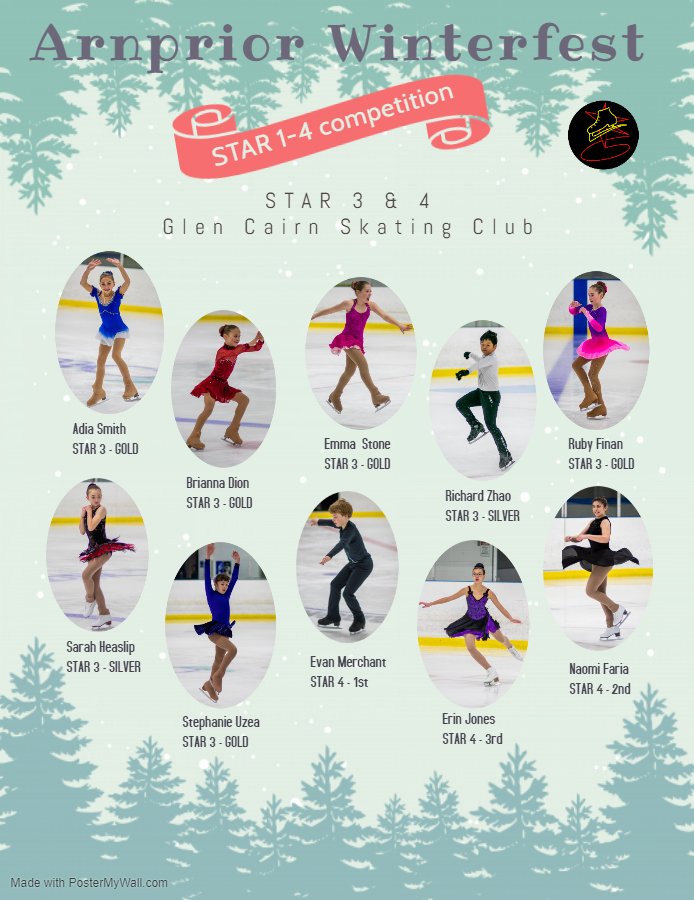 CALL FOR VOLUNTEERS AT OUR LOVE TO SKATE COMPETITION
posted Jan 14, 2020, 9:25 AM
STAR 1-4 Series: Love to Skate Competition

Glen Cairn Skating Club is excited to host the Love to Skate competition on Saturday, February 1, 2020 at Kanata Recreation Complex.
Call for Volunteers
We are proud to be the host club for this competition, but it can't be done without the help of volunteers. Please come out to support your club!

Some available volunteer positions are:
Ice Captains
Music Runners
Announcers
Dressing room attendants
Ticket Sales
Registration Desk
Kitchen Help
Several time slots are available for each position, and all training will be provided. It is always fun to host this event; we would love for both new parents and seasoned volunteers to sign up for one or more positions -- come join our team...Sign up Now!