Welcome
Based in Kanata (west end of Ottawa), the Glen Cairn Skating Club offers skating instruction to all levels of skaters. We offer a learn-to-skate CanSkate program, a hockey/ringette skills-based CanPowerSkate program and a figure skating STARskate and Competitive Skate program. All ice sessions are held at Bell Sensplex and Jack Charron Arena.
2018-2019 Skating Season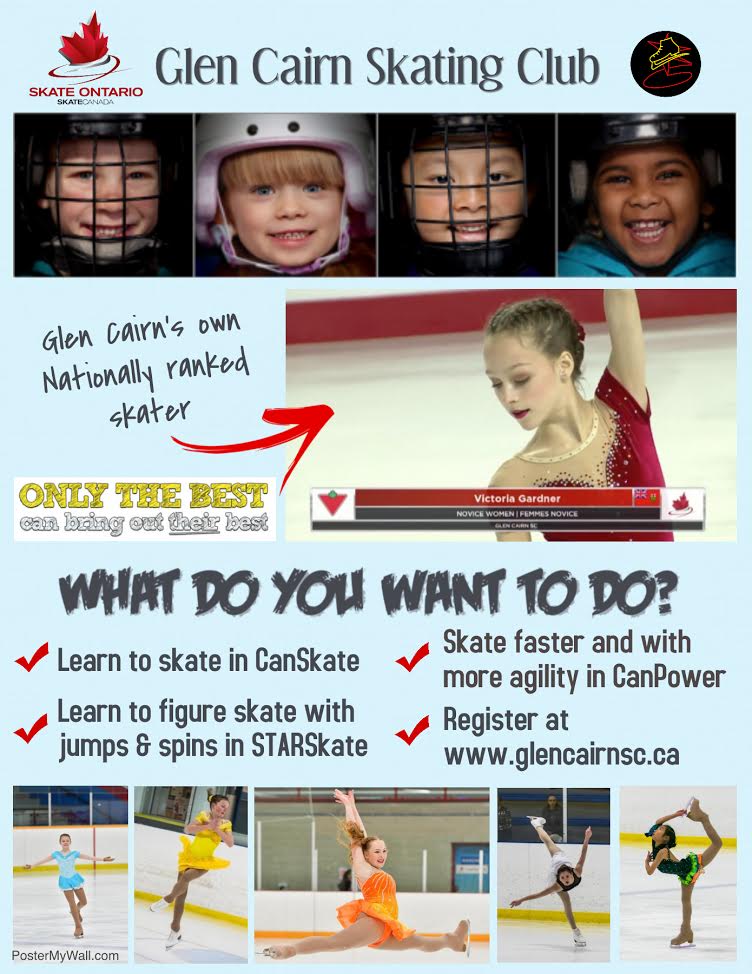 Fall registration is NOW OPEN for:

- CanSkate
- CanPower Skate
- STARSkate
Program schedules are available as a drop-down list on the menu bar. Please register online...and figure skaters: don't forget to buy your Special Events and Performance Ice on a separate drop-down selection.
Session Qualifications
Junior:
Must have passed at least Stage 4 CanSkate, have figure skates and have hired a coach. (If skater is working on Stage 5, s/he must wear a CSA approved helmet).

Intermediate:
Must have passed
COMPLETE
STAR 2 Freeskate
test
and be working on
STAR 3 Freeskate, STAR 4 Skills, STAR 4 Dance & Up
.
Must have passed COMPLETE Senior Bronze or STAR 5 Freeskate test and be working on Junior Silver Freeskate, Junior Silver Skills, Junior Silver Dances & Up.
Upcoming Events
The Glen Cairn Skating Club will be hosting our first SPECIAL EVENT session of the 2018/19 season on SUNDAY, OCTOBER 28th from 10:00-10:50 am at Jack Charron Arena. All STARSkaters (Junior/Intermediate/Senior) are encouraged to sign up and try something different and exciting.

We are pleased to offer
"A Variety Of Skating Disciplines" with Coach TUGBA KARADEMIR.

Tugba will enhance multiple aspects of your skating (Jumps, Spins, Field Moves…etc.) while teaching you how to get the most points out of what you do every day!

The cost to participate is $25 and you must register on the Glen Cairn Skating Club website prior to October 27th.

It is not too late to take advantage of our Discount Opportunity: Buy all 4 Special Event Sundays (October 28, November 25, February 17, March 24) and pay only $90 (instead of $25 each).

Please note: there will be NO regular open sessions on these "special event" days (as per Sunday registration exception dates).

Future Dates:
Sunday November 25/18
Sunday February 17/19
Sunday March 24/19

If you have any questions please contact Marie Palladini-Hamelin.

Hope to see you there!
Be a Club Volunteer
The Volunteer Sign-Up Sheet is for those who wish to earn back their volunteer fee by playing music during ice sessions. Please stay tuned for other volunteer opportunities throughout the season.
Competitions 2018-2019

The annual Sectionals championships are coming up in Oakville, Ontario from November 1-4, 2018. Glen Cairn Skating Club's own Victoria Gardner will be competing. Congratulations on making it to Sectionals, Victoria!
The next compeition in the Super Series will take place in Wellington, Prince Edward County from November 16-18, 2018. Good luck to all our skaters!
The STAR 1-4 Series will start in January 2019 with several events around the province, including Glen Cairn Skating Club's very own Love to Skate event at the Kanata Recreation Complex.
For more information on the upcoming competition season, visit Skate Ontario to find out more:

Club Jackets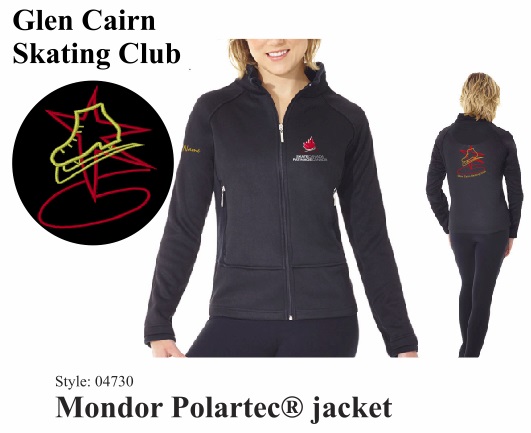 Buy & Sell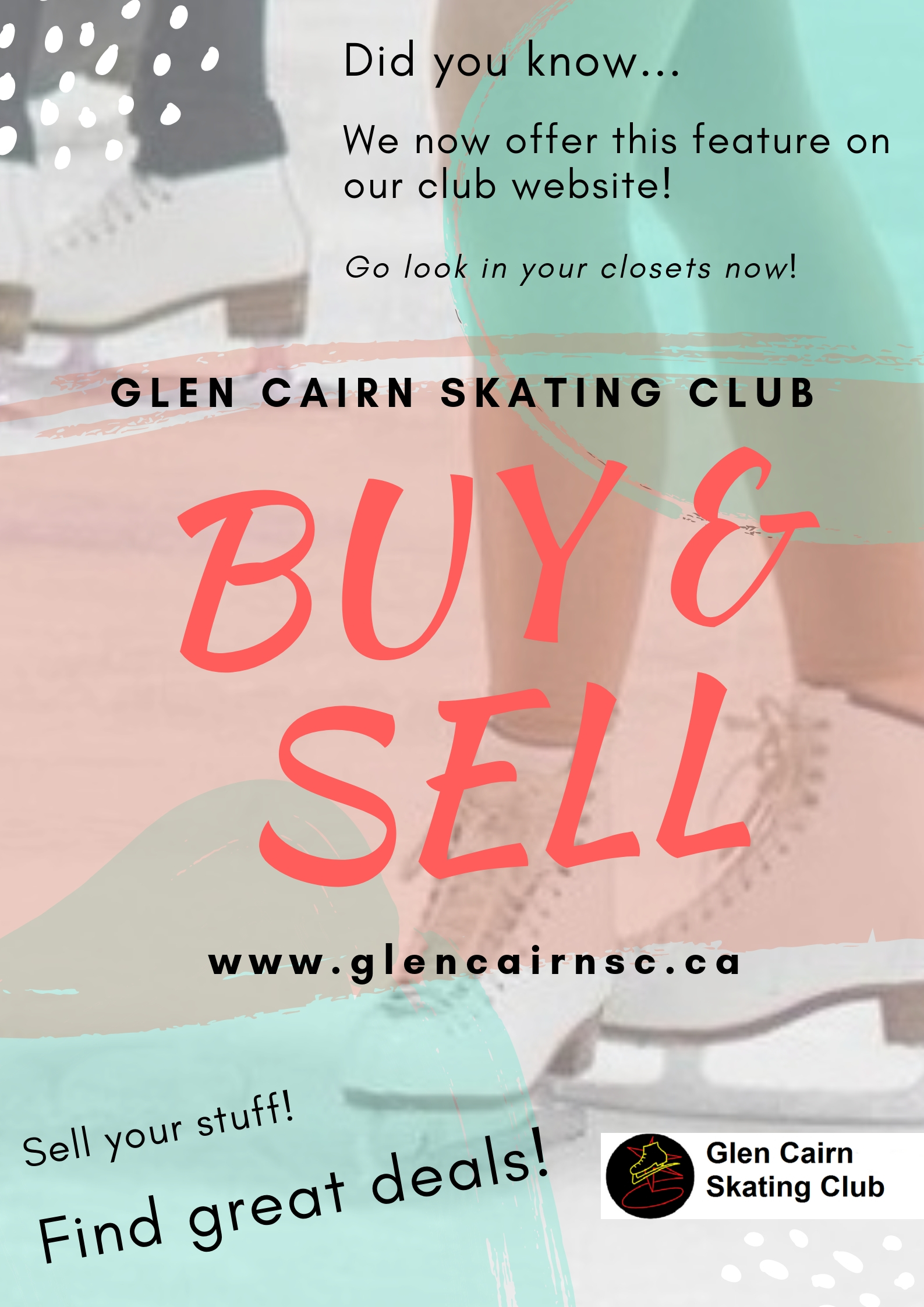 We now feature TWENTY items in our Buy & Sell section! Find great deals on (sometimes barely) used items, or contact the Buy & Sell coordinator to re-home items you no longer use. This is a great way to recycle and SAVE!