CanSkate Extension
REGISTRATION IS OPEN for the CanSkate Extension program, which runs on Wednesdays from March 22 through April 19 at Bell Sensplex.
Pre-Summer 2023
REGISTRATION IS OPEN for the 2023 Pre-Summer STARSkate and CanSkate season. As always, STARSkaters are asked to plan their registration choices with their coaches.
Summer Camp 2023
STARSkate Summer Camp will run for two weeks: July 3-7 (Week 1), and July 10-14 (Week 2). Please stay tuned for more details.
Guest Skating/Drop In
Guest Skating for figure skaters is available as "Drop In" under STARSkate Registration.
Please note: Off-Ice is NOT included; guest skating is ICE ONLY. Guest skating is not available for Academy sessions.
Volunteering
Thank you for helping to make our Club the best that it can be!
SIGN UP to volunteer
Spring Seminar with
Olympic Coaches
We are excited to announce two days of training with Brian Orser and Ravi Walia on April 24 & 25, 2023!
If you have questions regarding the seminar, please email Coach Marie.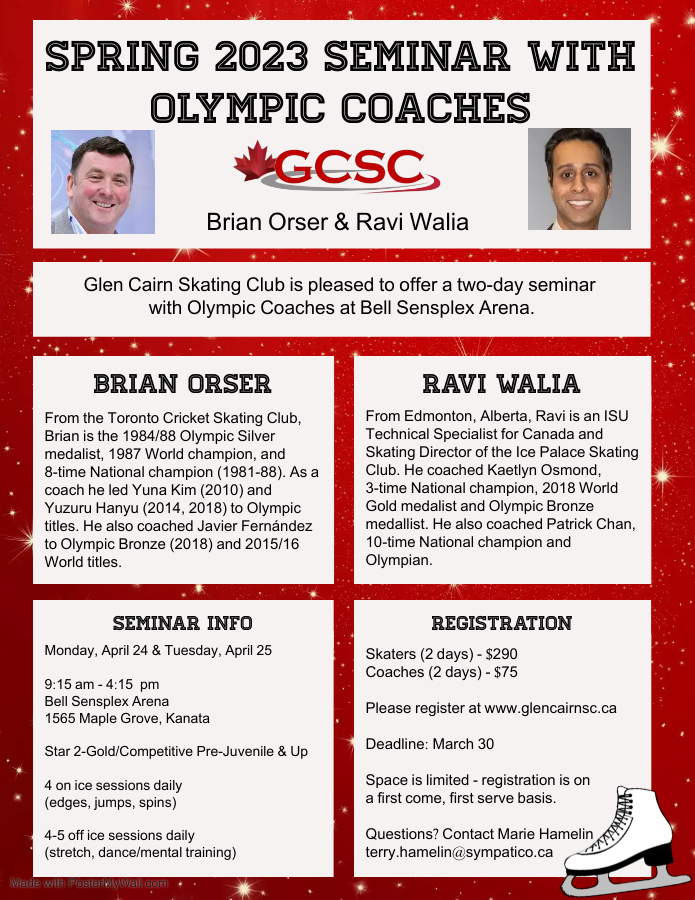 Competitions
Skate Ontario Provincial Championships
The
Provincial Series
Championships were held in Stratford March 24-26, 2023.
Congratulations to our three participating skaters who qualified for the championships!

Adelle MacLeod -

Gold Women & STAR 9 Women O14

Evan Merchant -

Juvenile Men U14 & STAR 7 Men O12

Adia Smith -

STAR 6 Women & STAR 7 Artistic

For more competition information please visit Skate Ontario Events.