Holiday Showcase 2022
We are excited to hold our annual Holiday Showcase on Sunday, December 18th from 10am - 2pm at Jack Charron Arena! This is a wonderful opportunity for parents, neighbours, family members and friends to come watch our skaters show off their solos and skating skills.
We will have a 50/50 draw and a raffle table with some excellent prizes. Also, skaters will be treated to a hot chocolate and a bag of popcorn; these will also be available to everyone else by donation.
We invite all family members to join their skaters after the event for a Family Fun Skate from 2-3pm, so be sure to bring your skates!
Skaters need to register to reserve their spot.
Admission tickets are available online and may also be purchased at the door for $5.
We look forward to seeing you all there!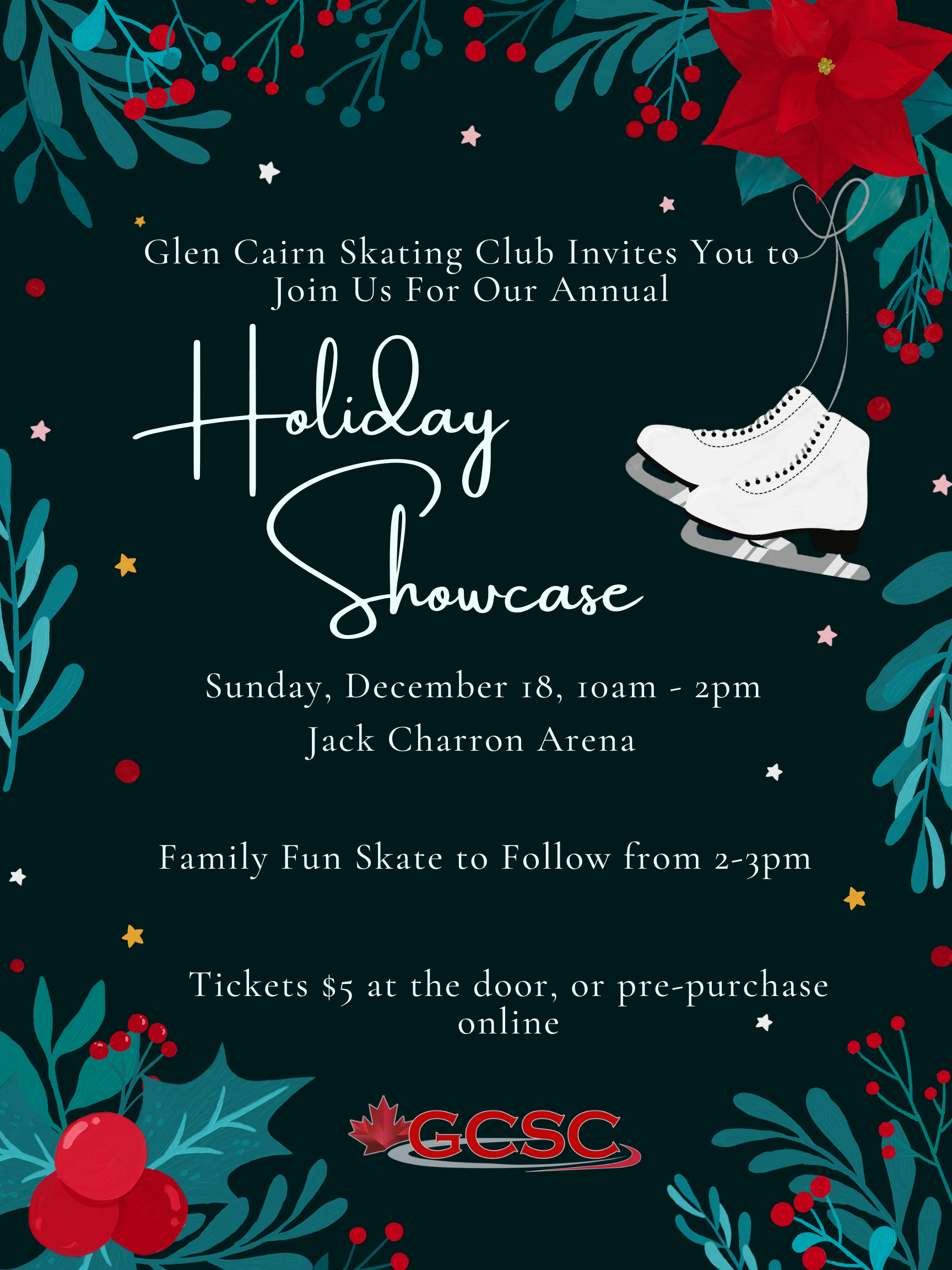 Fall/Winter 2022/2023
Guest Skating/Drop In
Guest Skating for figure skaters is available as "Drop In" under regular season registration.
Please note: Off-Ice is NOT included; guest skating is ICE ONLY.
Volunteering
Thank you for helping to make our Club the best that it can be!
SIGN UP to volunteer
Competitions
(Figure Skating)
This year's Sectional Championships for Pre-Novice and Novice levels will take place December 8-10, 2022 at the Ed Sackfield Arena & Fitness Centre in Richmond Hill. GCSC is proud to be sending two skaters to the championships:

Brianna Dion, Pre-Novice Women
Short Program: South Rink, Dec 8, 5:50 pm
Free Program: South Rink, Dec 9, TBD

Makya Bertrand, Novice Men
Short Program: North Rink, Dec 9, 2:00 pm
Free Program: North Rink, Dec 10, 1:00 pm
Pre-Novice Pairs Team (Brianna & Makya)
Short Program, North Rink, Dec 8, 11:20 am
Free Program, North Rink, Dec 9, 11:25 am

The Provincial Series (formerly called the Super Series) runs through March 5, 2023 leading to the Provincial Championships in Stratford on March 24-26, 2023. Stay tuned for news on GCSC skaters' podium finishers at the Nepean Provincial Series #3 Competition on December 2-4, 2022.
The Skate Ontario STAR 1-4 Series runs from January to March 2023. GCSC is proud to be hosting the Jan 28, 2023 Love to Skate event in this series.
For more competition information please visit Skate Ontario Events.